Automate your business relationship
Capture your website visitors
Encourage your visitors to discover your website through landing pages, to subscribe to your communications, to download content, to participate in webinars, to make a contact request or a demonstration of your products demand.
Use the landing page tool to customize your page with your brand and create engaging forms to retrieve information from your visitors. Encourage your visitors' conversion with calls to action (CTA) highlighted in strategic places of your pages.
Test the effectiveness of your landing pages and CTA by analyzing submission results to make changes and further improve your conversion performance.
Qualify your contacts database
Once your visitors were captured, optimize your database to retain only the most qualified contacts and most interested in your brand.
Analyze the behavior of your website visitors, their actions, pages visited, documents downloaded. Implement rules in the marketing automation software to segment your contacts automatically and adapt your communication to the navigation characteristics of your contacts.
Categorize your contacts so that you can communicate the right information to the right people at the right time according to their navigation behavior. Offer them a personalized experience to push them further for conversion or to build loyalty to your brand.
Enhance your relationship and the act of purchase at the right time
Adapt your communication according to the information gathered with the marketing automation software. Customize the experience to turn your leads into customers faster with tailored content within a lead nurturing strategy, a well-designed emailing, and business notifications when your lead achieve a determined lead score.
Raise your customer loyalty even after the act of purchase and turn them into promoters of your brand. Synchronize your software with social network accounts to identify the contacts related your brand, find out what they are talking about, and engage a conversation with them.
Create a real ambassador strategy for your customers with marketing automation by providing them the necessary information for their evolution. Monitor their actions on your website and use behavioral analysis to improve your content marketing strategy.
Webmecanik Automation is a web software that analyzes and records the behavior of your visitors on your websites. Thus, it automatically activates actions of contact and information with your prospects and customers according to their profile and their activity.
Webmecanik Automation is connectable with all major CRM solutions on the market as well as with more than 300 other software thanks to Zapier. Thus, you can be sure that information flows well between different softwares.
It's simple, indispensable and free.
A complete tool for everybody
It does not matter if you are a newbie or an expert in marketing automation, a small or a large company, if you have 1,000 or 100,000 contacts, because with Webmecanik Automation you have access to all software features from the very beginning. You start with a fullbodied tool to put the odds on your side, like everybody: unlimited emailing, email support, account manager, infrastructure security and data hosting in France or in Switzerland.
We support you in your marketing automation project and offer a program that suits your business.
The way we approach Automation, our Marketing Automation software based on an Open Source solution, gives the opportunity to our users to optimise their efficiency using their websites and customer datas. Statistics say more than long talks, you move from 80% to only 25% of ignored leads on your websites!
Norman Pracht - General Manager - Webmecanik
They trust us
Indexel agency boost Renault Sport into the world of Marketing Automation!
The challenge for Renault Sport was to unify their databases, to segment and qualify in real time 250,000 B2B and B2C contacts to receive the right content at the right time. Goal: to generate traffic on Renault Sport's BtoB and BtoC websites. The problem was that until then, their databases were exploited on different emailing or CRM tools.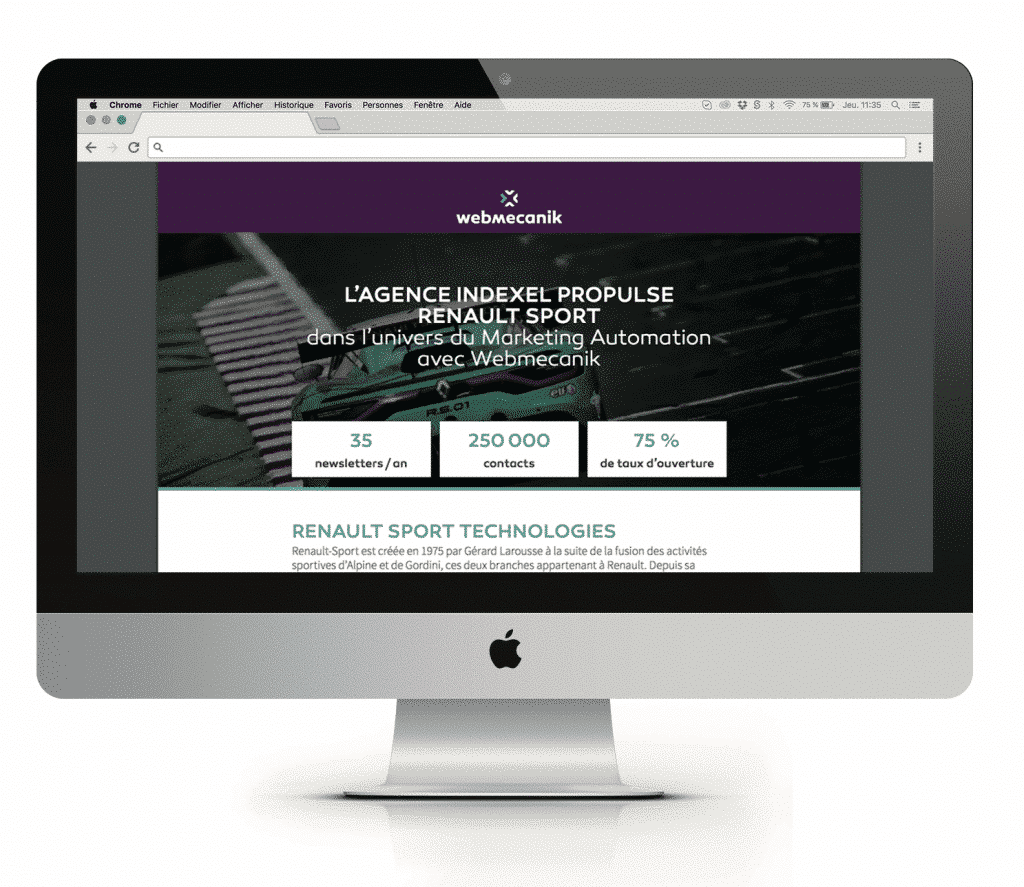 According to your profile and needs.
100€
/ monthly
Are you starting your business?

Enjoy all the features
up to 1000 contacts!
400€
/ monthly
All features
Up to 10,000 contacts
Advice and follow-up on demand
from 500 €
/ monthly
All features

3 customer accounts

1 account for your agency

Shared contacts

Account Manager